PRODUCTS
Although our artwork comes in a variety of standard acrylic sizes and shapes, we can also customize each piece with your own personalizing. Compliment the clear acrylic with an optional light base to reflect and highlight the colorful designs within.
Take some time and browse though the designs shown in our portfolio or give us an idea of your own using a picture or drawing and we can create your own one-of-a-kind carving at no additional charge.
---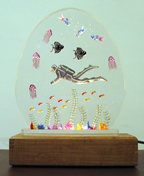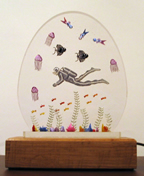 Here is our Scuba Scene (shown in the portfolio) with the optional light base. The Photo on the left shows the light turned on. (Click for a larger photo)




Here is the SIDE VIEW of our Scuba Scene.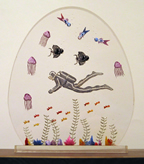 Finally, here is a shot of our Scuba Scene without the optional light base
---
Click here to view our Product Portfolio